Corporate social responsibility and sustainability report
Introduction and management approach
Self Storage Group's goal is to be the preferred self-storage provider in Scandinavia and generate profitability and return to our shareholders. The Group focuses on lean operations and automations. At the same time SSG aspire to offer industry leading customer service. The Group aims to develop a business model that is sustainable with low carbon footprint. The Board of Directors emphasises the importance of sustainability as an integral part of the company's operations and development.
Reporting standards
The Corporate Social Responsibility and Sustainability Report is inspired by the guidance on reporting of corporate responsibility from 2018 published by Oslo Stock Exchange. Oslo Stock Exchange's guidance is based on the Global Reporting Initiative's standards for corporate responsibility reporting (GRI Standards).
Contribution to the UN Sustainable Development Goals
The Group has prioritised three of the seventeen Sustainable Development Goals set out in the UN's 2030 Agenda for Sustainable Development. SSG sees the following goals as particularly significant to our business and the solutions the Group can contribute to:
Stakeholder and materiality analysis
Self Storage Group fulfils its corporate responsibilities by developing and running its operations profitably, and in a manner that conforms with fundamental ethical values and respect for individual people, society as a whole and the environment. This approach includes maintaining a dialogue with the Group's most important stakeholders. The Group has conducted a stakeholder and materiality analysis which identifies the economic, social, climate and environmental consequences of the company's operations that have the greatest impact on stakeholders' assessments and decisions. The model below shows which groups of stakeholders are regarded as most important for Self Storage Group: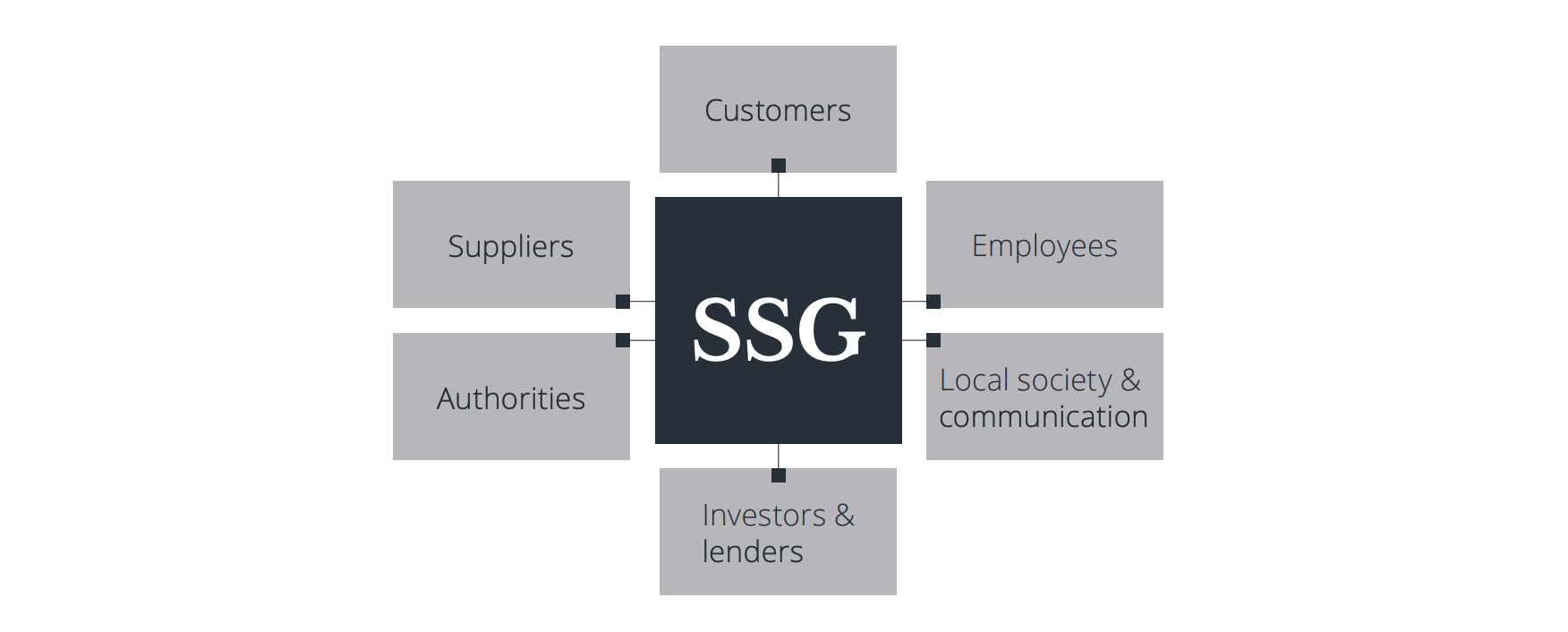 The model below specifies the degree of importance for SSG's stakeholders, as well as what is important and relevant for Self Storage Group: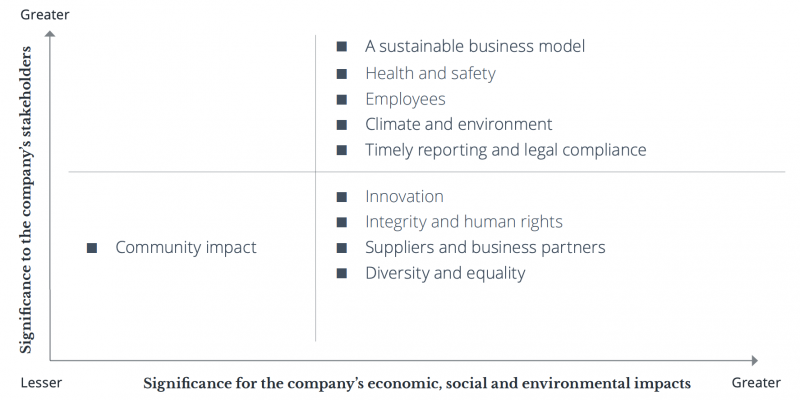 SSG's defined main focus areas
A sustainable business model
The self-storage business model is sustainable with focus on buildings and materials with long lifetime and storage of customers belongings in climate-controlled environments. A sustainable business model is there for significant for the company's economic, social and environmental impacts. By transforming old buildings to self-storage facilities, the Group contributes to sustainability, through the building process as earlier described. In addition, fit-out in good condition from closed facilities is dismantled and moved to new facilities if suitable. Self-storage is a product that helps people store instead of throwing away for later to buy new belongings. By being a provider of self-storage facilities close to where customers live, these buildings can be built smaller and there is less need for transportation to the facility. Customers satisfaction is important for us to continue to grow and their feedback gives valuable information to develop the business further. Caretakers of the properties are hired locally if it is a suitable solution. This reduce the need of transportation to the different facilities localised in Scandinavia.
Targets for 2020
Start to use better platforms to measure customer satisfaction, such as Trustpilot
Send monthly surveys where customer satisfaction is measured (Net Promoter Score)
Health and safety
The Group works continuously with health and safety matters for employees and customers. The absence due to illness for the Group in 2019 was 1.7%. Our site management supervise all facilities at a regularly basis to ensure a safe environment, with fire security being the most important measure. All employees at construction sites are required to wear protection equipment. Injuries on employees are reported, measured and followed up. There were no fatal or high consequence injuries in Self Storage Group in 2019 (0). For 2019 the Group had two employees that had absence due to injuries. One Site Manager in Norway needed to sew its finger when it accidentally came close to a shelf with sharp edges. Absence for one (1) day. The other one was working at a construction site in Norway and when working on removing an old gate got a cut when the gate slipped and fell on the construction workers hand. Absence for three (3) days. Where there has been reported injuries from customers, the ones the Group knows about are non-serious cut injuries where customers only needed patches or wound disinfection to clean the wounds. No fatal or high consequence injuries from customers have been reported (0).
Targets for 2020
Increase quality of the internal control system
No injuries leading to sickness absence among employees and hired personnel
Implement "suppliers declaration" for HSE, minimum wages etc for existing contracts
Employees
The employees are essential for the operation. At year-end 2019, the Group had 94 (87) employees, of which 54 worked fulltime. The employees have different roles in the organisation, such as customer service, caretaker, preparer of storage rooms, administration and construction. The group has been through several acquisitions, and work has been done to integrate the different working cultures to one. Company awards are used in the Group to premiere good role models for the values set. Many of the employees work on different facilities, and the intranet is important both for information to the employees and as a social platform where employees in all roles can communicate easily. The Group has low turnover (8% for 2019) and the average number of years an employee is employed is five years. All new employees are given necessary training to perform the work.
Targets for 2020
Measuring employee satisfaction by using annual employee survey
Use the results to implement new measures if/where it's needed
Climate and environment
Climate and environment have great significance for especially the company's economic impacts. However, the Groups operations are not considered to have any material impact on the climate and the environment even that the Group has focus on climate and environment. The highest environmental risk for Self Storage Group operations both on short and long term relates to water. More extreme water with heavy rain increase the risk for flooded buildings. Therefore, we put extra tension on roofing and other water related issues. Selected storage rooms are equipped with special mats on the floor to reduce water damages. Measures to prevent water damages have high attention in the Group, and in addition we recommend all customers to have insurance when renting storage. In the building process the management always try to combine sustainable and green solutions with long term financial choices. The Group requires recycling in the building process and on office facilities. The Group has focus on energy management on all levels and is continuously focusing on reducing the energy consumption in the portfolio. Our buildings are equipped with few technical installations, so lowering the energy consumption is mainly done by lower the temperature in climate-controlled environments, installing heat pumps and upgrading to LED-lightning. In Denmark several of the facilities have upgraded to LED-lightning both indoor and outdoor. The upgrades have been implemented from autumn 2018. In the figure below the decrease in energy consumption for four of the Danish facilities which are upgraded can be seen. The analyses is based of used kWh divided on CLA (m2) for these facilities. Heating of these facilities are performed with district heating. The figures below are not adjusted for climate.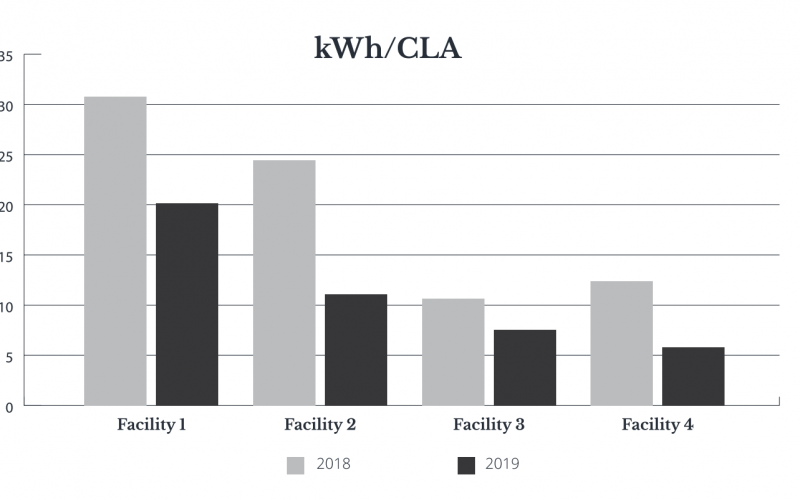 Targets for 2020
Set up systems for monitoring energy consumption and establishing KPI (kWh/ CLA) on all facilities.

After establishing a "point- 0", we will establish a goal for reductions.

Continue renewal of old lighting systems
Consider to choose 0- emission alternatives when company cars are to be renewed
Timely reporting and legal compliance
The Group is listed on Oslo Stock Exchange and follows all required reporting guidelines. All reporting has been made according to published financial calendar and regulatory deadlines. The goal is to continue to deliver timely reporting with high quality that contains all required information. Financial reporting and legal compliance are focus on both Management and Board Meetings. This ensures that enough resources are allocated timely.
Targets for 2020
100% timely reporting according to financial calendar and regulatory deadlines
Other
Innovation
The Group seeks new solutions to continuously improve the customer service. By focusing on digital solutions, the customers' ability to help themselves are increased. New solutions are intuitive and easy, thus improving the customers experience. The CRM-system developed for OK Minilager has been upgraded and improved since 2018. The acquired companies Minilageret, Minilager Norge and Eurobox have successfully been migrated to the new platform. All new CSS-facilities are also added to the new CRM-system. During 2020 the Group plans to start the migration of CSS-facilities to the new CRM-system. The focus on modern CRM is essential for efficient operations which is easy to scale up when new facilities are added to the portfolio. The management works close with operation and customer service to develop new solutions.
Community impact
Self-storage is a business with little traffic and limited pollution. Approximately 80% of the customers are individual customers, who rarely visit their storage room. Some facilities offer volunteer organisations discounts on storage.
Integrity and human rights
Integrity and human rights are of great significance for the Group, and no violations on these are accepted. We think that most of our stakeholders do not assess this as a risk in Scandinavia. The Group has implemented ethical guidelines as a part of the corporate governance framework to maintain a high ethical standard in its business concept and relations with customers, suppliers and employees. These guidelines ensure compliance with arm's length distance principles and minimise the risk for corruption. The Group pays tax to the local country and are not involved in tax planning.
Suppliers and business partners
Timely deliveries from suppliers are essential for the Groups operations and growth. To ensure that all suppliers follow laws and regulations the Group has started to use a supplier declaration. The declaration focuses on hired labours salary and rights, recycling, use of subcontractors and quality systems.
Diversity and equality
The Group attempts to maintain a working environment with equal opportunities for all based on qualifications and irrespective of gender, age, sex, ethnicity, sexual orientation, disability, or any other protected status. At year-end 2019, women held 35 percent of the positions in the Group. Female employees made up 25 percent of the Management team and 50 percent of the Board of Directors. The organisation is set up with a flat and unformal organisation model. A total of 15 different nationalities are represented in the Group.